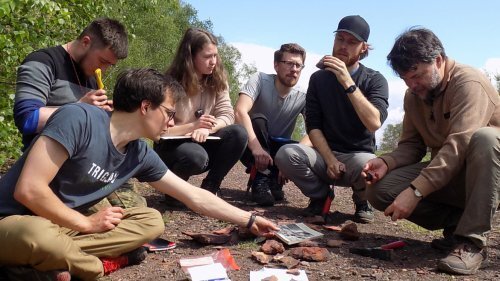 Because the group is broad and the lecturers cover a range of specialties, we often work in small groups, both in the lecture hall and seminar rooms and in the lab and field.
Some seminars are even held in the professor's office (just like the old days!). If you are looking for an alternative to the mass university and appreciate intensive support, this is the place for you.
Jena's location on the edge of the Thuringian Mulde brings our students early and quickly into close contact with the metamorphic, igneous and sedimentary rocks of central Germany, which illustrate the region's eventful geological history. Immediately below and above the institute building, mudstone and gypsum of the upper Buntsandstein are on display. Some afternoon excursions set out on foot, by bicycle or by car. One and two day geological excursions can be efficiently filled with lots of information.
The study of geosciences is varied and exciting. The General and Historical Geology Working Group is no exception.
What courses can I take with the working group? de